As an end user, can I order products directly from BS Systems?
No, we do not sell directly to end customers. Here you can find sources of supply in your vicinity, where you can purchase our products.
What is the minimum order volume where I can customize or even self-design my product?
Depending on the product, the order volume can vary somewhat. You can find more information on the page of the respective articles.
Can I purchase spare parts from BS Systems?
Currently we are unable to offer spare parts, however should this situation change in the future we will inform you here.
Are all the accessory articles, which are pictured on your website available from my source of supply?
No, not all accessory articles can be purchased directly. The reason for this is that we can only offer individual accessory solutions from a determined order volume.
I have a complaint. Who should I contact?
Please contact the location where you purchased the product. If you purchased the product from us please contact Qualitaetsmanagement-BSS@L-BOXX.de.
I need logo files or picture material. Where can I find this?
Here you can access our Media Center. All of the logos and picture data you find there are freely available to you. Should you require further media data or have any questions then please email Marketing@L-BOXX.de.
Is it possible to download CAD models or 3D drawings of your products?
CAD models or 3D drawings can only be passed on under certain circumstances with a prior confidentiality agreement. To apply for such a form please contact info@L-BOXX.de.
My BOXXes won't click together. What could the problem be?
You will probably find stacking feet on your BOXXes. These are a transport safety device which prevent scratches. Please check the bottom of your BOXXes and remove the normally white plastic clips labeled with "REMOVE".
Are my BOXXes lockable?
The BOXXes are not directly lockable, however they can be locked with a thin padlock or a rope lock. You can use the existing boreholes left and right of the BOXX to facilitate this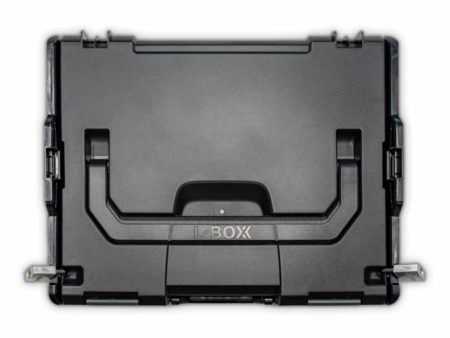 Does my Sortimo L-BOXX fit onto a BOSCH BOXX? Or can the various Partner-BOXXes be clicked together?
Yes! All BOXXes in the L-BOXX system, no matter from which L-BOXX-Partner they come, are system compatible and can click together. You can find an overview of our L-BOXX-Partners here.
The inlay in one of my L-BOXX machine cases is broken. Can I get a replacement from you?
Unfortunately no, in this case please contact the machine manufacturer or the dealer where you purchased the product.
Why won't my BOSCH L-Case (BOSCH's W-BOXX) click directly together with my L-BOXX?
Not every BOSCH L-Case has a coupling mechanism. However all BOSCH L-Cases are stackable. For some BOSCH L-Cases a coupling mechanism can be retro-fitted. Please contact your Bosch sales partner for information.
Is my ProClick Tool Bag compatible with the L-BOXX system and the L-BOXX-Partners?
Yes, ProClick is part of the L-BOXX system and for this reason is compatible with every (Partner-)BOXX.
Where can I click my ProClick Tool Pouches?
The ProClick Tool Pouches click exclusively into the ProClick Holder. With van-racking-systems or sundry ProClick products, the ProClick Tool Pouches can be inserted but not clicked.
My L-BOXX will not click onto my ProClick ClickTray. Why is this?
The ProClick ClickTray can be clicked under a ProClick Tool Bag and over an L-BOXX. However clicking a ProClick ClickTray under an L-BOXX is not possible.