We are delighted to be able to introduce FEIN as a new L-BOXX System-Partner
Following on the announcement of the cooperation with Bosch on the Professional 18V Rechargeable battery platform, FEIN has also chosen a system concept for packaging, which adds value for the end user, by becoming a member of the L-BOXX Family.
The overarching goal is to make everyday working easier for the professional tradesman and to ensure they can get through their work faster and more efficiently.
We have gained a strong partner for the L-BOXX System with FEIN, and combined with the over 300 existing partners, we have taken a further step towards being the market standard for mobile solutions in trades.
Back in 1967, FEIN launched the first oscillating power tool on the market. Today, this multifunctional device called the MULTIMASTER, is still inspiring trade professionals from all manner of industries worldwide. So, it makes perfect sense that it is exactly this series that the conversion to a new transport and storage system begins with.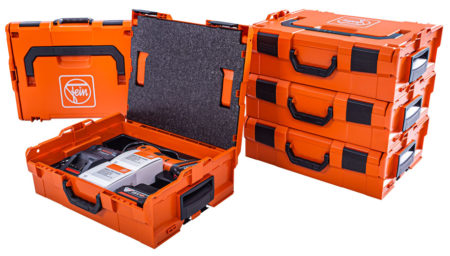 In perfect time for the Holz-Handwerk trade fair in July, FEIN is presenting the new rechargeable battery operated MULTIMASTER AMM in the L-BOXX 136. The close cooperation of the project teams to date promises a tight partnership on a level playing field. We are grateful for the trust placed in us and are looking forward to continued innovative and professional cooperation, and we are thrilled to welcome FEIN to the L-BOXX Family!

Fatih Yilmaz
Managing Director BS Systems GmbH & Co. KG